Episode 125, Live at the Looking Glass with Shavanna Miller, Will Hessler and Ugly Purple Sweater
You, Me, Them, Everybody Live! at the Looking Glass with Shavanna Miller, Will Hessler and Ugly Purple Sweater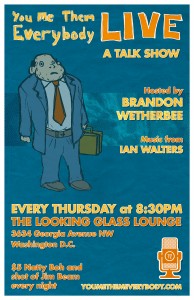 The best DC show to date.
I should have kept playing Pop Warner football.
Shavanne Miller is the co-creator of whatthefuckhasobamadonesofar.com. Guess if she's a Democrat, Republican or other?
Will Hessler is very funny and you can visit his online presence here.
Ugly Purple Sweater play beautiful music and you should see them live whenever they're near you. You can see if they're near you be going here.
To the girl in the crowd wearing a yellow coat, please, if you're going to kill me, wait until after the show.
Enjoy!