Episode 128, Live at the Looking Glass with Jeff Bagato, Pete Bladel and The Bachelor
You, Me, Them, Everybody Live! at the Looking Glass with Jeff Bagato, Pete Bladel and The Bachelor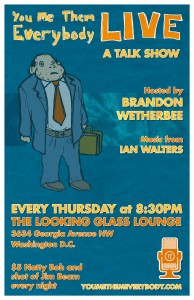 Hey, everybody, it's "Ellen"! Let's dance! On a cross!
Jeff Bagato is an author who has interviewed Vanilla Ice about outsider art. Really. Visit him on the internet here.
Pete Bladel is a stand up comic that also played college football. See if he's funny by listening to this show!
The Bachelor, of The Bachelor and the Bad Actress, may want to physically harm me! Am I still alive or did a ghost type this! Find out by listening to the show! Visit them online here.
The first line only makes sense if you listen to the monologue.