Episode 133, Live at the Looking Glass with Meg and Chris from 2Birds1Blog, Brandon Wardell and Junior League Band
You, Me, Them, Everybody Live! at the Looking Glass with Meg and Chris from 2Birds1Blog, Brandon Wardell and Junior League Band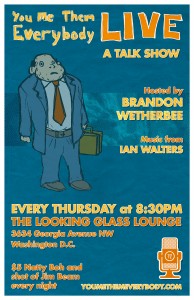 Meg and Chris are very popular! Their blog is very popular! You can read it here.
Brandon Wardell is very funny. So funny we talk about other podcasts in front of a crowd.
Junior League Band is fantastic. Their music is beautiful and accessible. Highly recommended. Visit them online here.
Yes we did!