Episode 141, Live at the Hungry Brain with Claire Zulkey, Ricky Carmona and Michael Lux and the Bad Sons
You, Me, Them, Everybody Live! at the Hungry Brain with Claire Zulkey, Ricky Carmona and Michael Lux and the Bad Sons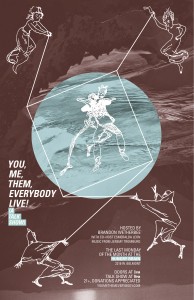 I was an All-Star!
Claire Zulkey is an author (buy her book "An Off Year") and all-around nice person. You should see her show at the Hideout on May 10. It's called Funny Ha-Ha and should be funny. More info here.
Ricky Carmona is one of my favorite people. Follow him on Twitter and see him live.
Michael Lux and the Bad Sons are really good and played some music that has never been played on acoustic guitars. Visit them online and see them live.
Good show.