Episode 166, Live at the Wonderland Ballroom with Keli Anaya, Tyler Richardson and The Dustys
Episode 166, Live at the Wonderland Ballroom with Keli Anaya, Tyler Richardson and The Dustys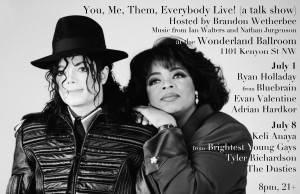 Another phrase for a bra!
I am a fan of Keli Anaya. He writes for Brightest Young Gays and makes art. He's also a fan of animated gif's.
Tyler Richardson is funny and about to move. This is not shocking.
The Dustys close the show with a very nice set of very nice music.
Onwards and upwards!