Live at the Wonderland Ballroom with Jennifer Vinson, Philippe Schaeffer and Harris Face
Live at the Wonderland Ballroom with Jennifer Vinson, Philippe Schaeffer and Harris Face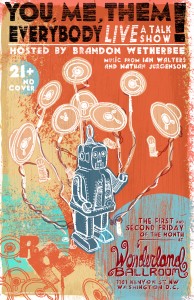 Warning: Please do not listen to this show first. For fans of the show only. It's a rough one.
Jennifer Vinson runs DC Setlist. Visit that. She's cool.
Philippe Schaffer tells jokes and gets laughs.
The Ghost of Comedy dishes out sage advice.
Harris Face closes the show with a nice set.
Once again, listen with care.