Live at the Wonderland Ballroom with Alexandra Petri and Parsely
Live at the Wonderland Ballroom with Alexandra Petri and Parsely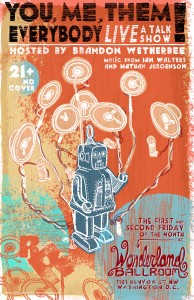 DISCLAIMER: I mixed up "RuPaul's Drag Race" season 3 winner Raja with season 4 finalist Phi Phi O'Hara. I am regretful for my error. Oh yea, there's also a giant part of the show missing. It makes sense if you were there. Since you probably weren't there, I'll tell you about what happened in person! Let's all be friends!
---
Team Sharon Needles!
Rush Limbaugh thinks Alexandra is b-i-itchy! She's made it! Go see her Fringe play!
Goodbye, Sir Alistair Sinclair!
Beautiful music from Parsely!
Jenn Tisdale is the co-host and Chris Kelly is the DJ!
It gets loud!