Live at the Wonderland Ballroom with Christian Hunt, Elahe Izadi, Adam Friedland and Johari
Live at the Wonderland Ballroom with Christian Hunt, Elahe Izadi, Adam Friedland and Johari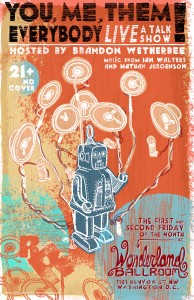 A new host opens the show.
Christian Hunt wears a red suit and produces The Capital City Showcase.
Elahe Izadi made people thing their yearbooks were defective.
Adam Friedland teaches us about the history of rap.
Johari closes the show with a voice and guitar.
Goodbye, dearly departed friend. Sadface.