Live at the Hungry Brain with Lily Emerson, Martin Morrow, Joe McAdam, Deadbeat, Stephanie Hasz
Live at the Hungry Brain with Lily Emerson, Martin Morrow, Joe McAdam, Deadbeat, Stephanie Hasz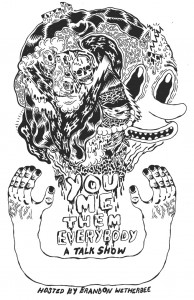 Amazing guests, a flight-crazy host, "Cocktail"-esque co-host and the Tamale Guy.
Lily Emerson is making the world better with "Adventure Sandwich."
Martin Morrow for stand up.
Joe McAdam for stand up and Arby's franchises.
Deadbeat for a gorgeous set.
Stephanie Hasz for one joke.
Esmeralda Leon for co-host.
The ACB's for house band.
Hungry Brain for venue.