Live at The Creek and The Cave with Halle Kiefer, Catie Lazarus, David Carter, Jenn Tisdale, Becca Ryskalczyk from Bethlehem Steel
Live at The Creek and The Cave with Halle Kiefer, Catie Lazarus, David Carter, Jenn Tisdale, Becca Ryskalczyk from Bethlehem Steel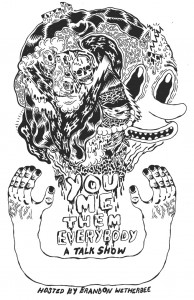 WARNING: The audio isn't that great. The show should be listened to on a stereo. It sounds much worse in headphones.
A funny set from funny person Halle Kiefer. Watch her be funny here.
A chat with podcaster, writer and funny person Catie Lazarus. Listen to her Employee of the Month podcast here.
A Topical Cream segment with David Carter. Read Topical Cream here.
Advice from Jenn Tisdale. Follow her on Twitter here.
Excellent music from Becca Ryskalczyk from Bethlehem Steel. Listen to her band here.