Episode 126, Live at Pete's Candy Store with Sara Benincasa, Nick Vatterott and Pearl and the Beard
You, Me, Them, Everybody Live! at Pete's Candy Store with Sara Benincasa, Nick Vatterott and Pearl and the Beard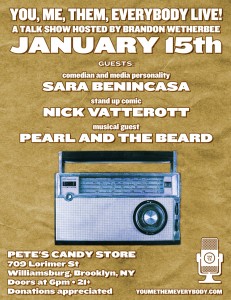 The first YMTE Live! in New York! And it wasn't bad! Hooray!
Sara Benincasa is the perfect guest. She can talk about anything and won't shy away from anal. So that's good. See her when she does stand up or her one woman show and buy her book when it comes out. Find out about that kind of stuff at her site, sarabenincasa.com.
Nick Vatterott was recently on "Late Night with Jimmy Fallon". He was kind enough to do all new material for this appearance. I appreciate that. Watch clips and more on his site oodlesofpun.com..
Pearl and the Beard has been interviewed on YMTE and now they've played a live show. I love them. I told them that. They know. The second song they performed is the most touching song ever played on YMTE Live! Go to their shows and buy all the stuff they want you to buy here.
Thanks Pete's Candy Store! Please let YMTE Live! take place inside you once a month!
View some amazing photographs from the show taken by the lovely Mindy Tucker.