Episode 149, Live at the Looking Glass with Dave Zirin, Mariya Alexander and Jonny Grave
You, Me, Them, Everybody Live! at the Looking Glass with Dave Zirin, Mariya Alexander and Jonny Grave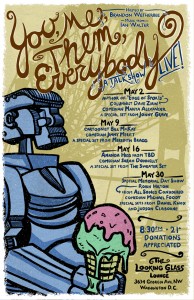 Send me your hate mail! Please! It's so, so good!
Dave Zirin is a sports writer. He's the perfect talk show guest. Entertaining, engageing, smart, charming and more. Buy all of his books and read all of his columns. No joke. Whether or not you like sports, you will enjoy Mr. Zirin. Visit him at Edge of Sports.
Mariya is a fellow podcaster! Hooray! You can listen to her show at The Mariya Alexander Show.
I am a fan of Jonny Grave as a musician and a person. An all-around good guy and good performer. Find him on Reverb Nation and see him tonight at the Looking Glass. I invited the gentleman back for another round.
The fantastic poster attached to this podcast was made by Rich Bernett from Gig Posters by Rich.