Live at the Hungry Brain with Ana Fernatt, Ali Clayton, Think Tank and Deadbeat
Live at the Hungry Brain with Ana Fernatt, Ali Clayton, Think Tank and Deadbeat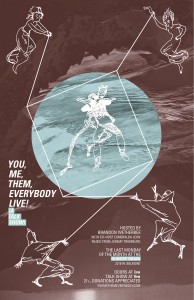 Ana Fernatt is the RedEye dating columnist, a ChicagoNow Blogger, travel writer and very nice lady. Follow her on Twitter. Foller her boyfriend @showyousuck too!
Ali Clayton is a funny stand up comic and Southern lady. Follow her on Twitter.
Think Tank is fantastic and I love everything they do.
Deadbeat may be my new favorite band. Visit their site My Imaginary Record Label.
Rock Falls is the house band, Esmeralda Leon is the co-host, Hungry Brain is the home.
Thanks to our sponsors